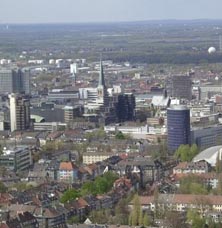 Nearly 25,000 residents are being evacuated from parts of the west German city of Dortmund as experts get ready to dispose of a massive bomb, left over from allied efforts during World War II.
The bomb, which weighs about 4,000-pounds was found while historians analyzed aerial photographs while searching for unexploded ordnance.
German government officials hoped that the evacuation would only last a few hours, and that residents would be able to return to their homes by Sunday evening.
Unexploded WWII-era bombs are regularly discovered in parts of Europe, and especially in Germany. However, most of the bombs found are much smaller than this one.
Two years ago, a similar unexploded device was found in the nearby city of Koblenz, which required an evacuation of roughly 45,000 people.